Pharmaceutical Industry
Pharmaceuticals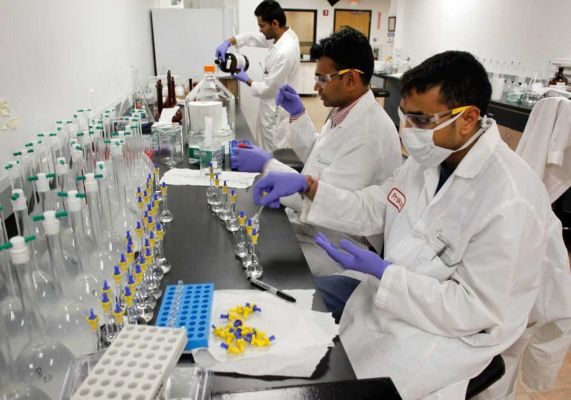 In Bangladesh, Pharmaceuticals is one of the fastest growing sectors. The Pharma Industry of Bangladesh is paying the second largest revenue to the Government's exchequer. Bangladesh Association of Pharmaceutical Industries is meeting 97 % of total demand of pharmaceutical products. Besides catering to local demand, Bangladesh is also exporting its formulations to 62 countries of the world (mainly Asia, Africa and East Europe) and demand for export is increasing rapidly. Bangladesh Pharmaceutical Industry is now heading towards self-sufficiency in pharmaceuticals.
Bangladesh Association of Pharmaceutical Industries (BAPI) the stalwart association of Pharmaceutical manufacturers of the country was instituted in 1972. Since then BAPI playing a pivotal role in shaping up the industry. Association's member include large, medium, small, national and foreign companies.
Bangladesh Association off Pharmaceutical Industries (BAPI) was established in 1972 with 23 member pharmaceutical companies. Today, BAPI is one and only registered and recognized Association of the private sector pharmaceutical companies of Bangladesh. BAPI has been enrolled as member of International Federation of Pharmaceutical Manufacturers Association (IFPMA), Geneva. Though its major activities include upholding interests of the pharmaceutical manufacturers of Bangladesh to the relevant forums, in last few years BAPI also organized various health awareness programs, campaigns, against spurious drugs, exports potentials & problems in Bangladesh.
The pharmaceutical industry is one of the most dynamic and powerful sectors in Bangladesh. It is technologically one of the most developed manufacturing industries and currently contributes about one percent to total GDP with great potential for expansion. Total domestic healthcare expenditures are currently approximately three percent of GDP, offering substantial opportunity for domestic pharmaceutical sales in addition to exports. Increased education levels, enhanced awareness of healthcare, growing per capita incomes, the emergence of private healthcare services and the government's expanding public expenditures in this sector continue to stimulate a rise in demand.

Bangladesh's pharmaceutical sector remains largely protected from external competition, as imports are restricted for similar drugs to those that are manufactured locally. The World Trade Organization's (WTO) Trade-Related Aspects of Intellectual Property Rights (TRIPs) agreement permits Bangladesh to reverse-engineer patented generic pharmaceutical products to sell locally and export to markets around the world.

The TRIPs agreement is turning Bangladesh into a hub for affordable and high-quality generic medicines and contract manufacturing, with exports to potentially more than 85 countries across the world. More than ten leading Bangladeshi pharmaceutical companies are exporting generics to international markets. Some of these companies are also emerging as competitors to Indian firms in certain areas. Bangladeshi pharmaceutical companies are investing heavily in upgrading manufacturing plants and obtaining certifications from the United States, Australia, Canada and Europe. Beximco Pharma and Square Pharma both successfully completed FDA inspection of their oral solid dosage manufacturing facilities and received notification in June 2015. The top-ranking companies have already developed world-class pharmaceutical plants with state-of-the-art technology.

Bangladeshi pharmaceutical companies focus primarily on branded generic final formulations, using both imported and domestically produced Active Pharmaceutical Ingredients (APIs). About 85 percent of the drugs sold in Bangladesh are generic and 15 percent are patented drugs. Bangladesh manufactures more than 450 generic drugs for 5,300 registered brands, which have 8,300 different forms of dosages and strengths. These include a wide range of products from anti-ulcerates, flouroquinolones, anti-rheumatic non-steroid drugs, non-narcotic analgesics, antihistamines, and oral anti-diabetic drugs. Bangladesh also produces high-tech medicines such as anticancer treatments, hormonal products, enzymes and coenzymes on a limited scale, but it is currently only able to meet four percent of local requirements.

There are currently around 100 Bangladeshi pharmaceutical companies in operation. The industry is highly concentrated as the top 20 companies generate 85 percent of the revenue. The top ten manufacturers by share of market revenue are as follows: Square (19 percent), Incepta (9.5 percent), Beximco (9 percent), Opsonin (5 percent), Renata (4.9 percent), Eskayef (4.7 percent), ACI (4.3 percent), ACME (4.1 percent), Aritstopharma (4 percent), and Drug International (3.7 percent). Local manufacturers dominate the industry, enjoying about 90 percent market share while multinationals hold 10 percent.

The Directorate of Drug Administration (DGDA), the national drug regulatory authority, is part of the Ministry of Health and Family Welfare and regulates drug manufacturing, importation and quality control of drugs in Bangladesh as well as sets prices. The government has given support to the manufacturing industry for decades. It adopted The Drug Act 1940 in 1974, originally adopted by the Indian government in 1940, and later by the Pakistani government in 1957. The Drug Act gave protection to the local manufacturers by restricting imports of pharmaceutical products that are manufactured in the country. It remains likely that import restrictions will stay in place, and local companies will continue to dominate the pharmaceutical market.

The drivers behind market growth based on some health indicators are:

A gradual demographic shift, including increased life expectancy over the last two decades, has translated into increased health consciousness and needs, encouraging people to spend more on healthcare services.

The income base of the population has been growing over the last decade. Health expenditure per capita doubled during that same period, indicating people's willingness to spend more on health as their disposable incomes increase.

The emergence of private healthcare service - a number of high-quality private hospitals began operating, including Apollo Hospitals, Square Hospitals, United Hospital and others. These hospitals have become popular due to their high-quality service. They have been a major factor contributing to increased healthcare expenditure and have substituted for regional healthcare travel (although treatment in Malaysia and Singapore remains popular with some wealthy Bangladeshis even traveling to the United States for specialized services).

Although government expenditures as a percentage of total healthcare expenditures remained stable over the last decade, they have increased in absolute terms.
Sub-Sector Best Prospects
Although a few local companies manufacture Active Pharmaceutical Ingredients (APIs), about 80 percent of the supply is imported. The local companies usually run the relatively easier final chemical synthesis stage with API intermediaries, instead of the complete chemical synthesis.

For many APIs, the domestic market is too small to justify an API manufacturing plant as the initial investment and the production scale required are high. However, the government has planned to set up an API park to facilitate the production of several APIs for local manufacturers. Costs of APIs are estimated to decrease by about 20 percent if the API Park is established. Work for establishing an API industry park is progressing, albeit slowly, at Gojaria in Munshiganj. A total of 42 industries will be set up in the park, which will hold the potential to significantly boost the pharmaceutical sector in the country and create employment for more than 35,000 people.
Opportunities
Multinational and large national companies generally follow current good manufacturing practices (cGMP) including rigorous quality control of their products. This offers significant opportunities for U.S. firms to partner with Bangladeshi companies to produce for domestic or international markets. The pharmaceutical market trend is shifting toward unconventional drugs where there is greater opportunity for foreign investment. The areas of primary demand are:

Veterinary and human vaccines;

Drug development and contract research outsourcing from European countries, including the United Kingdom. Examples include ophthalmic pharmaceuticals and cardio-vascular medication;

Clinical trials of new pharmaceuticals;

Biological drugs (for instance, insulin and hepatitis);

Disease modifying drugs (for instance, anti-cancer medications);

Hormonal therapies.

Approximately 85 percent of the medications sold in Bangladesh are generics and 15 percent are patented drugs. Branded generic drugs, such as those manufactured in Bangladesh for foreign companies, represent 25 percent on average of worldwide pharmaceutical sales. However, given the increased demand from emerging markets like China, India and Latin America, branded generic drugs may well dominate total sales within a decade.
| | | | | |
| --- | --- | --- | --- | --- |
| | 2014 | 2015 | 2016 | 2017 (Estimated) |
| Market Size | $1,338,380 | $1,505,860 | $1,686,563 | $1,897,000 |
| Local Production (97% of market, estimated) | $1,298,228 | $1,460,684 | $1,635,966 | $1,843,500 |
| Imports | N/A | N/A | N/A | N/A |
| Exports | $9,398 | $11,278 | $14,097 | $17,540 |
| Total Market Size | N/A | N/A | N/A | N/A |
$U.S. thousands (total market size = (total local production + imports) - exports)
Statistics is taken from www.export.gov/article?id=Bangladesh-Pharmaceutical
For more information visit http://www.pharmajogot.com/bangladesh-association-of-pharmaceutical-industries-bapi/