The Republic of Tajikistan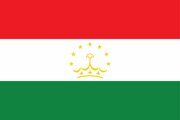 Capital

Dushanbe

Population

9,537,645 people

Area

143,100 km2 (94th)

Languages

Tajiki

Government

H.E. Mr. Emomali Rahmon – President

H.E. Mr. Kokhir Rasulzoda–Prime Minister

H.E. Mr. Sirodjidin Aslov – Foreign Minister

National Day

9 September– Independence Day of the Republic of Tajikistan
Bangladesh–Tajikistan relations refer to the bilateral relations between Bangladesh and Tajikistan. Bangladesh and Tajikistan have been enjoying warm diplomatic relations with a willingness to strengthen it further.
Former Foreign minister of Bangladesh Dr. Dipu Moni paid a visit to Dushanbe in 2013.
Bangladesh and Tajikistan have shown mutual interest to expand the economic activities between the two countries. Bangladeshi investors have shown their interest in investing in the sectors of light industry and cotton. In 2007, a Bangladeshi firm COSMOTEX established cotton and leather processing plants in Tajikistan.
Bangladeshi readymade garments and pharmaceuticals have been identified as products with high potentials in Tajikistan's market. In 2013, Bangladesh and Tajikistan signed a deal on trade and economic cooperation in order to expand bilateral economic activities between the two countries.
State Minister for Foreign Affairs Md. Shahriar Alam had an official meeting with the Foreign Minister of Tajikistan on 14 April 2018. Both of them discussed various agreements which could be concluded between the two countries covering issues like the joint commission, visa waiver, exchange of information and experiences mainly of garments manufacture and export of Tajik cotton and other agricultural products, development of pharmaceutical products using rich Tajik resources and development of tourism. Tajik Foreign Minister further praised the leadership role of Bangladesh in various international fora and requested for the continued support of Bangladesh in various efforts of Tajikistan.