The Republic of Kazakhstan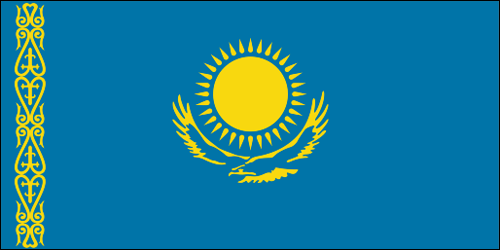 Capital

Nursultan

Population

17,693,500 (62nd) (2016 estimate)

Area

2,724,900 km2 (9th)

Languages

Kazakh – state; Russian - official

Government

H.E. Mr. Kassym Jomart Tokayev– President - www.akorda.kz

H.E. Mr. Askar Mamin –Prime Minister - www.pm.kz

H.E. Mr. Tileuberdi Mmukhtar – Foreign Minister - http://mfa.gov.kz

National Day

16 December – Independence Day of the Republic of Kazakhstan
Bangladesh and Kazakhstan established diplomatic relations in February, 1992. The two countries are represented in each other's capital at the level of non-resident Ambassadors. Kazakhstan Mission in Islamabad, Pakistan is accredited to Bangladesh and Bangladesh Mission in Tashkent is concurrently accredited to Kazakhstan. Current Ambassador of Bangladesh presented his Credentials to H.E. Mr. Marat Tazhin – Secretary of State of the Republic of Kazakhstan on 28 November, 2013.
Bangladesh and Kazakhstan share common views on most of the international issues as members of UN, OIC and NAM. Both the countries work closely in many international organizations including the UN.
Bilateral relations between the two countries are steadily growing. The two countries could further develop their relations especially in the fields of trade, commerce and investment. Bangladesh exports tea, leather products, jute/jute products and readymade garments in increased quantities. There is however possibility to diversify exports from both sides.
Both Governments are actively pursuing the boosting of economic ties. Bangladesh imports significant amount of products from Kazakhstan. The Bangladesh Embassy for Kazakhstan, with residence in Tashkent, eagerly supports the growth of bilateral ties is working to promote large initiatives between the two countries, especially in trade and commerce.
In a conventional sense, relations between the two countries could be characterized as fraternal and warm and a little else, in terms of substance. Both have a shared history, culture and religion. Bangladesh recalls in a way of retrospection the support that it received from Kazakhstan then as a constituent republic of the former USSR during Liberation War of Bangladesh. The Kazakhs likewise appreciate Bangladesh's early recognition of their independent journey following the disintegration of the Soviet Union in 1991. Both nations have shared membership in major multilateral organizations and observably tend to cooperate closely.
On political and diplomatic levels, VVIP visits from either side are yet to materialize. There have however been a few Ministerial visits, besides exchange of several private and public sector business delegations.
Both sides have expressed their readiness to intensify cooperation in possible areas every time they met.